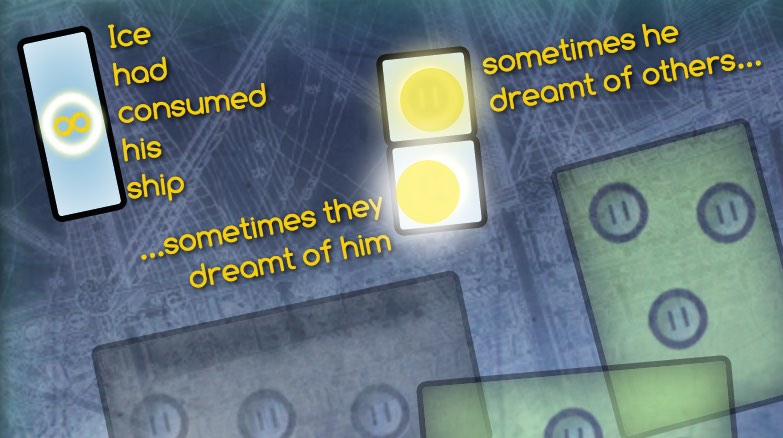 The creators of The Ice-Bound Concordance, an award-winning indie game combining a physical printed art book with a groundbreaking interactive narrative, announced today a month-long sale, with 100% of profits from the first week of December going to 826 National, a non-profit group supporting youth writing programs.
Game Trailer – Website – Screenshots – Presskit
"826 National coordinates seven creative writing centers for under-resourced students around the country, including writing workshops, after-school tutoring, and programs to help students publish their work," co-creator Aaron A. Reed said. "The Ice-Bound Concordance is a game about writing. It felt like a good time to give something back."
The unique game is played in concert with a physical print book called The Ice-Bound Compendium. This 80 page full-color art book unlocks the story in the digital game via augmented reality and a groundbreaking combinatorial narrative engine. The game and book were released in January 2016 after winning IndieCade's "Best Story" award and receiving nominations from IGF, ISEA, and SxSW Interactive.
Since release, the project has received broad acclaim. Rock Paper Shotgun called it "one of the most ambitious projects I've ever seen"; EuroGamer said it was "unmissable" and "brilliant"; KillScreen called it "extraordinary"; PocketGamer said it "pushes the limits" of interactive fiction. Katherine Cross writing for Gamasutra called Ice-Bound a "masterfully layered" and "magisterial game… the book leaves a glitchy, pixelated impression on one's mind long after one is done playing/reading."
Created by award-winning game designer Aaron A. Reed (Blue Lacuna; 18 Cadence; Prom Week) and writer and interactive story researcher Jacob Garbe, the game tells a nested, recursive story inspired by writers like Borges and books like Mark Danielewski's House of Leaves. A digital simulation of a long-dead author enlists the player's help on a quest to complete an unfinished masterpiece. The player sculpts their own version of the story while exploring a shifting literary labyrinth filled with doomed polar explorers and fragments of memories.
The digital Ice-Bound Concordance is available for Windows PCs with webcams and iPads, and the first two chapters can be sampled for free. The physical book component, The Ice-Bound Compendium, unlocks the full game, and is available from Indie Press Revolution and Amazon.com. Both can be acquired at www.ice-bound.com.
During the month of December, the Compendium is on sale for $19, down from its regular price of $25. In contrast to many indie games with frequent fire sales, the physical nature of the game means this is a rare opportunity to get it at a discounted price.
100% of profits on sales through December 8th will be donated to 826 National, an umbrella group managing 826 Valencia and six other youth creative writing centers around the country. More information is available at www.826national.org.